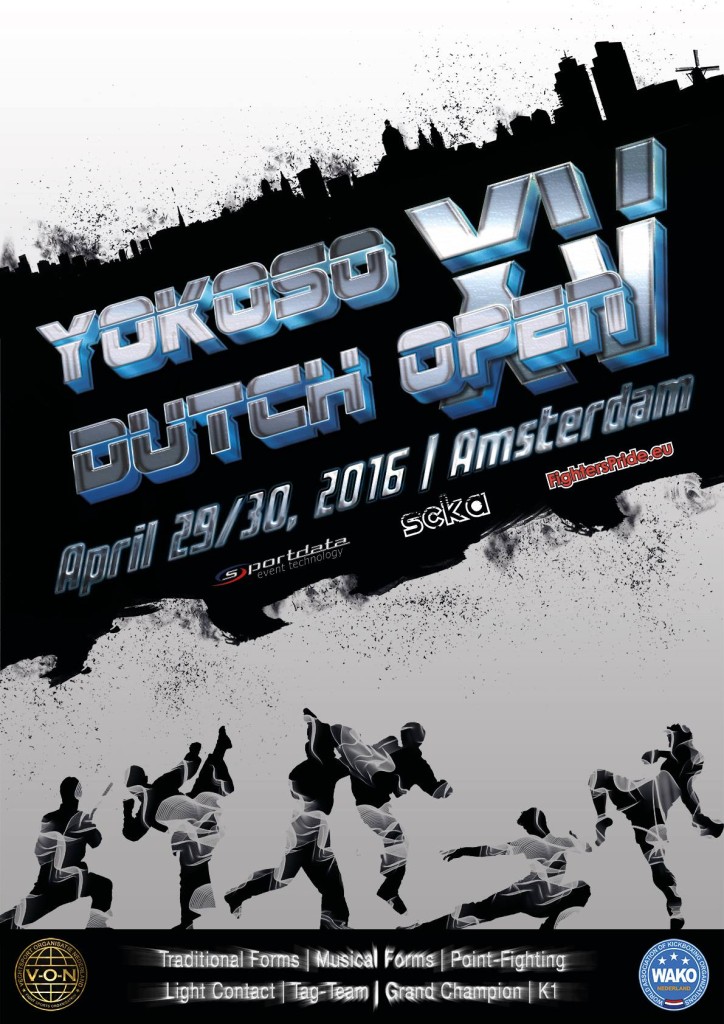 Highlights of the Yokoso Dutch Open 2015. Made by Vanessa van Gasselt, Global Nomads Productions.
YOKOSO DUTCH OPEN 2016!!
On behalf of the WAKO Nederland and Karatedo Yōkoso it is my pleasure to welcome you to the Yōkoso Dutch Open in Amstelveen, The Netherlands. This great tournament will be held on Friday 29th and Saturday 30th of April, 2016.
Last year the tournament showed to be a big success. And with the extra teams that will be present this year we will offer you guaranteed high quality fights. Every year the tournament has been growing for the past seven years and this will be the first time that we do it on two days. On Friday we have the Grand Champions Piontfighting and Tag Team divisions. For the Grand Champion Men division there is a prize of 500 euro, Women 350 euro and for all Tag Team champions 300 euro! On Saturday we'll have all the other divisions, so there will be time to enjoy Amsterdam on Saturday night.
We have some new categories like Traditional forms with weapons and K1 this year! Also new this year is the Grand Champion Forms category. This category is for everybody and has only a time limit rule of 3 minutes. There's a men and women division with no age limit, you are free to do weapons, traditional, with music, unlimited tricks and aerials. No rules except time! There will be an special made prize for the winner of Grand Champion sponsored SCKA Weapons!
The WAKO Nederland is proud to host this Yōkoso Dutch Open event and our organizing committee with the Yōkoso Team is doing its utmost in order to make the Yōkoso Dutch Open as successful as previous editions. We are looking forward to meeting you all in The Netherlands and wish you a nice and successful stay in Amstelveen/ Amsterdam. Yōkoso (Japanse for welcome) at the Yōkoso Dutch Open 2016!
Program of the Yokoso Dutch Open 2016:
Weight in: Friday from 12.00 o'clock and Saturday till 9.00 o'clock!!
Friday 29th of April
Start 19.00 till 22.00 o'clock
Grand Champion Pointfighting Men and Women
Tag Team Men and Women
Saturday 30th of April
Start at 9.30 till 18.00 o'clock
All Forms(also Grand Champion Forms), Pointfighting, Light Contact and K1 divisions!!
Be on time with the registration! Registration after 12th of May will result in an raise of the entry fee of 5 euro per division!!!