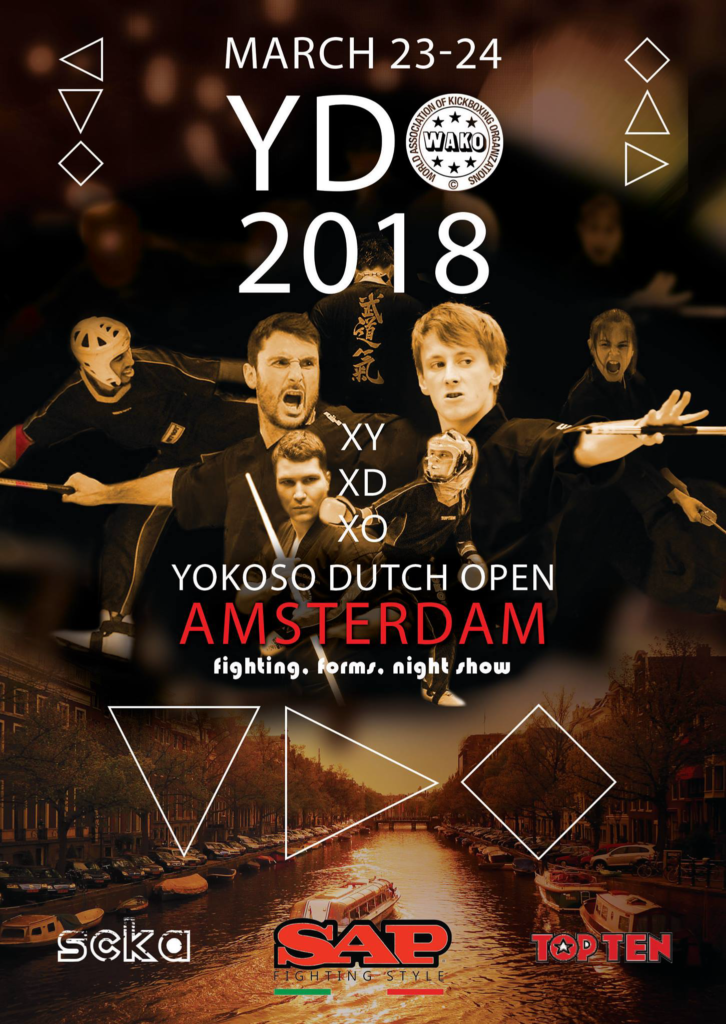 Highlights of the Yokoso Dutch Open 2015. Made by Vanessa van Gasselt, Global Nomads Productions.
YOKOSO DUTCH OPEN 2018!!
On behalf of the WAKO Nederland and Karatedo Yōkoso it is my pleasure to welcome you to the Yōkoso Dutch Open in Amsterdam, The Netherlands. This great tournament will be held on Friday 23rd and Saturday 24th of March, 2018.
Last year the tournament showed to be a big success. And with the extra teams that will be present this year we will offer you guaranteed high quality fights. Every year the tournament has been growing for the past ten years and this will be the third time that we do it on two days. On Friday we have Seminars for forms and a Medical Seminar for doctors, coaches and referees. For Grand Champion Men division there is a prize of 500 euro, Women 350 euro and for all Tag Team champions 300 euro! On Saturday we'll have all divisions, so there will be time to enjoy Amsterdam on Saturday night and Sunday,
We have categories like the Trick Battle and beginners categories for Point Fighting YC and OC! This year we will have again the Night Show on Saturday with the Grand Champion Finals for Pointfighting and Forms, TAG TEAM Final, Demo's, Trick Battle and maybe some Finals in LC and K1! Also This year there will be K1 for Cadets according to Dutch Rules. This means no contact to the head till 16 years old. All other K1 rules will apply for these categories, that will be fought in the ring.
The WAKO Nederland is proud to host this Yōkoso Dutch Open event and our organizing committee with the Yōkoso Team is doing its utmost in order to make the Yōkoso Dutch Open as successful as previous editions. We are looking forward to meeting you all in The Netherlands and wish you a nice and successful stay in Amstelveen/ Amsterdam. Yōkoso (Japanse for welcome) at the Yōkoso Dutch Open 2018!